---
The World's Best Bodysurfers


Author: David Christopher Lane
Publisher: The NEURAL SURFER
Publication date: UPDATED (August 1998)

E-mail David Christopher Lane directly at dlane@weber.ucsd.edu
I want to go back to the home base now.
THE NEURAL SURFER'S LIST OF THE TOP EIGHT BODYSURFERS IN THE WORLD
1. MIKE STEWART (yep, I know he is also the world's greatest bodyboarder, but this guy also rips Pipeline with just his body and his fins; Stewart also ranks as the one of the all-time greatest wave riders in history, ranking with Slater, Curren, Laird Hamilton, Lopez, and others)
2. BARRY HOLT (this guy is so good at Point Panic that it is truly awe-inspiring to watch. To see him do TWO 360's bodysurfing on the most critical section of the wave was a sight to behold. Barry is at the top of his game and he represents a whole crew of Point Panic locals who are heads and shoulders above their California counterparts. The Point Panic locals KNOW how to make spinners BOTH functional and beautiful. Also the nicest group in the bodysurfing world.)
3. MARK CUNNINGHAM (not to be confused with "Mike"--no relation--who is ranked 4th on my list. This guy dominated bodysurfing in Hawaii in the 70s and 80s, only to lose some of his glory with the likes of Stewart)
4. TOM "cashbox" KENNEDY (I saw Tom ride premier Wedge during the big September swell of 1997 and hold an amazingly clean line in a wave that for others would be nothing less than a controlled wipeout. Arguably, Tom is the standout bodysurfer at the Wedge and that alone puts him in a world class category.)
5. DAVE FORD (this kid is still a teenager and has already won the Grand Master title in the World bodysurfing contest TWICE. Nice kid, comes from a good family, and he rips. Extremely nimble and fast. Potential is huge. His brothers are also quite good.)
6. MIKE CUNNINGHAM (has won the Grand Master title at Oceanside SIX times, a feat much more difficult when one stops to consider how strange the judging can be there. Truly an innovative bodysurfer who has the cleanest dolphin underwater take-offs in the sport.)
7. TIM CASINELLI (the youngest winner of the Grand Master title ever, at the age of 15. Beautiful stylist who has shown remarkable speed in the water. He may be the most under-rated bodysurfer in the front ranks. Look for a major charge in the future>)
8. THE POINT PANIC CREW (there are so many outstanding bodysurfers at Point Panic--as this last contest in July demonstrated--that it is hard to talk about great bodysurfers at all without mentioning 20 or so locals at Panics. These superb wave riders depict what is best about our sport and about the pure "aloha" of riding waves without boards. The Wedge crew deserves mention, of course, but that's already obvious.) -----------------------------------------------------
BODYSURFER on the HORIZON:
CHRIS LAFFERTY (the most consistent bodysurfer, perhaps, in the past three years in major contests; nice guy, as well) ---------------------------------------------------------
The World's Best Bodysurfing Relay Team? No way, but hey I had to get this picture in of my friends and I somehow.j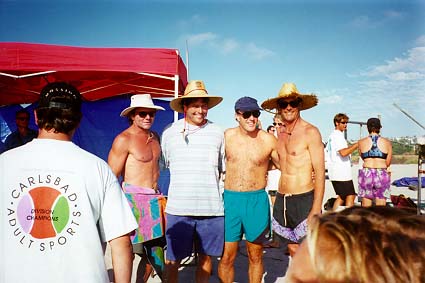 E-mail The Neural Surfer directly at dlane@weber.ucsd.edu
I want to go back to the home base now.